Victorian Primary Care Partnerships Case Studies
Primary Care Partnerships (PCPs) have significant knowledge and experience in building partnerships dedicated to improving the health and wellbeing of their local community. This work is done across the continuum of care from prevention to service access and treatment.
This page contains some exceptional examples of case studies of PCP work across Victoria. The case studies have been presented in line with the Victorian Public Health and Wellbeing Plan 2019-23.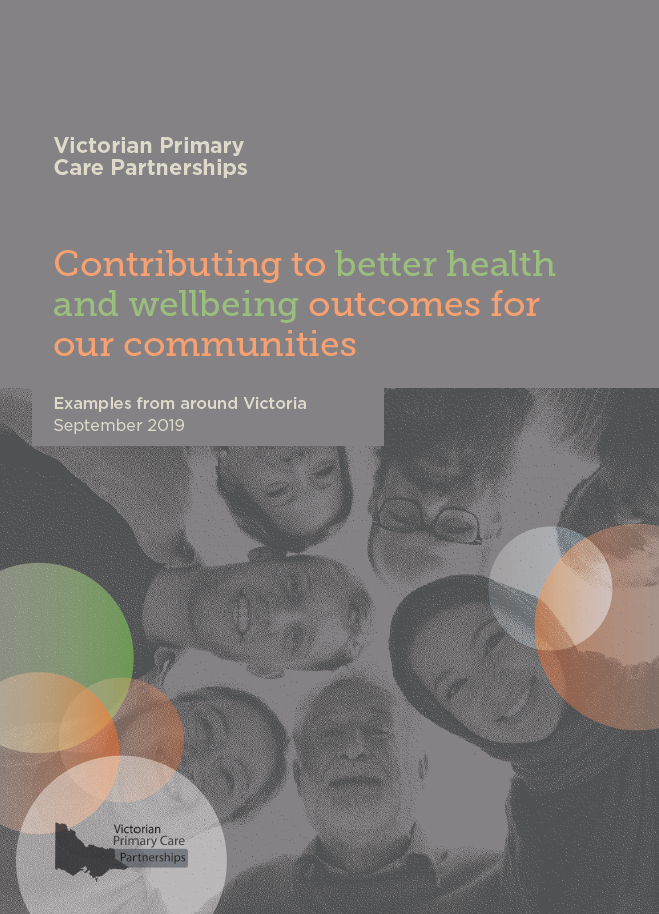 COVID-19
PIVOTS IN PRACTICE – CAPTURING PRACTICE LESSONS AND APPLYING A COVID LENS TO PREVENTION PLANNING
INTERNATIONAL STUDENTS AND INCLUSION PARTNERSHIP
ADDRESSING LOCAL COVID-19 IMPACTS ACROSS SOUTH WEST VICTORIA
RESPONSE TO COVID-19: CONVERSATION HOUR
MACEDON RANGES SLOWING THE SPREAD 
MACEDON RANGES ADAPTABLE AND RESILIENT 
COVID-19 RESPONSE MARCH – JUNE 2020: BRINGING INFORMATION TOGETHER FOR RURAL COMMUNITIES – CASE STUDY 
DIGITAL CONNECTION FOR SENIORS
DIGITAL ACCESS PROJECT CASE STUDY "STORIES FROM THE BUSH"
MOBILE PHONE AND INTERNET ACCESS ISSUES IN LODDON SHIRE AND RURAL AREAS OF GREATER BENDIGO – A SNAPSHOT OF EXPERIENCES
COLLABORATION FOR COMMUNITY RESILIENCE (COVID 19)
CAMPASPE EMERGENCY FOOD RELIEF SERVICES DURING COVID-19: MOBILISING RAPID RESPONSES TO INFORM COMMUNITY
FACILITATING SERVICE ACCESS AND COORDINATION: THE ROLE OF PCPs IN PROMOTING AND SHARING SERVICE DISRUPTION AND ACCESS CHANGES DURING COVID-19
RESPONDING TO THE NEEDS OF SERVICE PROVIDERS AND THE COMMUNITY DURING THE COVID-19 PANDEMIC
RESPONDING TO LOCAL FOOD SECURITY NEEDS DURING THE COVID-19 PANDEMIC
INFORMING ACTION IN THE COVID-19 RECOVERY PHASE – ENLIVEN'S CLIMATE CHANGE ADAPTATION JOURNEY
INFORMING ACTION DURING THE COVID-19 PANDEMIC – ENLIVEN'S HEALTH LITERACY JOURNEY
INFORMING ACTION IN THE COVID-19 RECOVERY PHASE – ENLIVEN'S HEALTH PROMOTION AND PREVENTION JOURNEY
Healthy Eating and Active Living
MAKING PHYSICAL ACTIVITY A PRIORITY
SEA CHANGE PORTLAND and Gen8 Change
Mental Health and Social Inclusion
SUICIDE PREVENTION_PLACE BASED APPROACH
2009 BUSHFIRE COMMUNITY SUPPORT PROJECT
RESPIN GAMBLING AWARNESS SPEAKERS BUREAU
Family Violence and Prevention of Violence Against Women
INCEPT 2.0 SHARED MEASUREMENT AND EVALUATION IN PVAW
BULOKE FAMILY VIOLENCE PREVENTION PROJECT
EARLY INTERVENTIONS IN FAMILY VIOLENCE
Cultural Responsiveness
BUILDING CULTURAL SECURITY IN THE WORKPLACE
ADDRESSING WORKFORCE DIVERSITY THROUGH THE HEALTHWEST STANDARDS FOR WORKFORCE MUTUALITY
Reducing Harmful Alcohol and Drug Use
STRENGTHENING THE ALCOHOL AND OTHER DRUG SERVICE SYSTEM IN THE EAST TO IMPROVE CLIENT EXPERIENCES
EAST GIPPSLAND DRUG AND ALCOHOL PREVENTION ALLIANCE
Climate Change
COMMUNITY RESILIENCE IN THE FACE OF CLIMATE CHANGE
Partnership Capacity Building
DEVELOPING THE ONLINE HEALTH LITERACY TRAINING COURSE FOR THE STATE
SOUTHERN MALLEE PRIMARY CARE PARTNERSHIP INTEGRATED PLANNING PROCESS
BLG HEALTH NEEDS ANALYSIS IMPLEMENTATION PLAN
SHIFTING TO A SHARED MEASUREMENT APPROACHVIC PCP
LODDON SHIRE MUNICIPAL PUBLIC HEALTH AND WELLBEING PLAN